Our Lady of Victories Catholic Primary School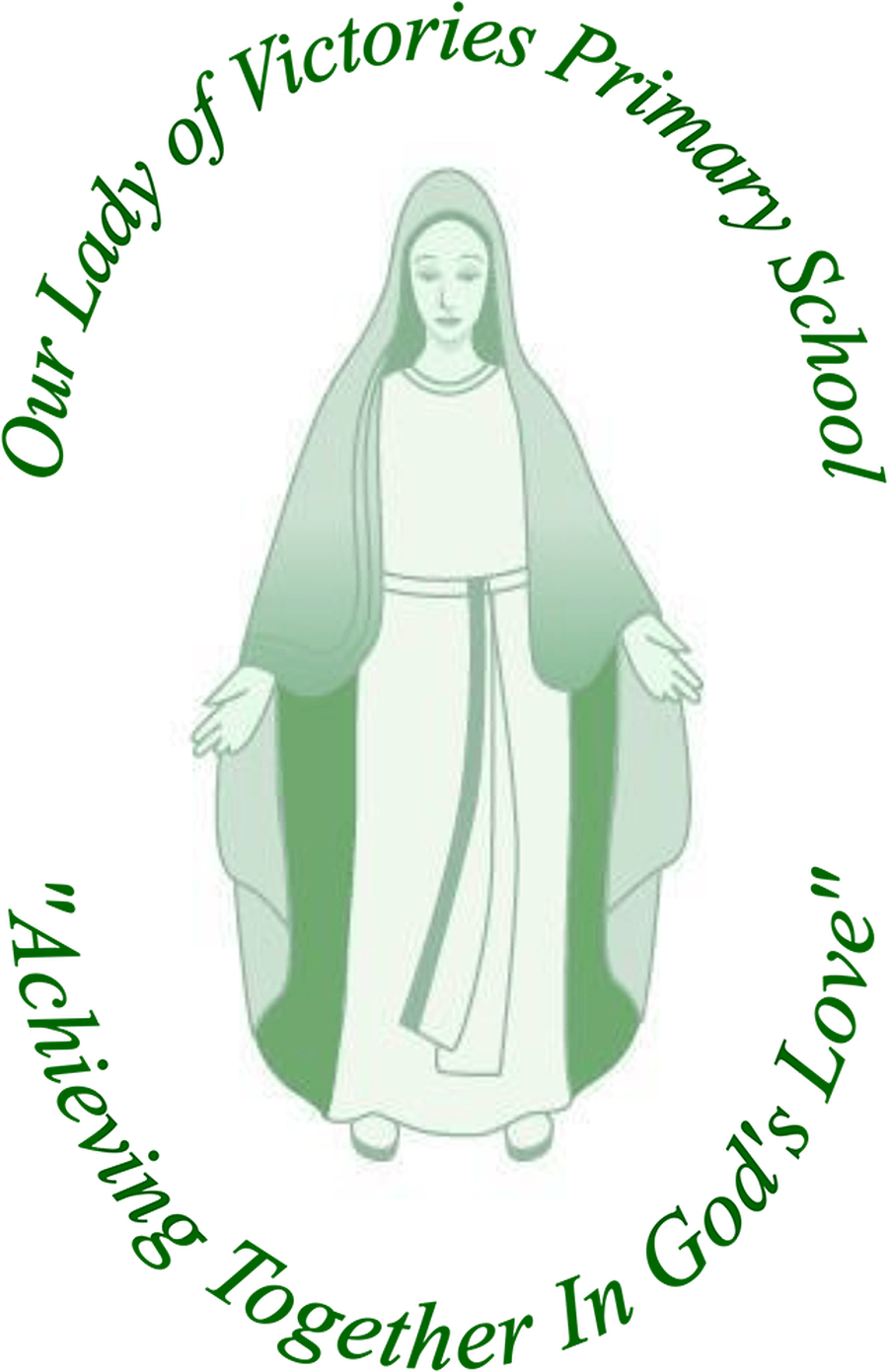 We want all children at Our Lady Victories to be happy and we try to achieve this by giving our children what we believe are the best days of their lives. We want them to feel safe and secure. We want them to be able to pray, to learn about God's wonderful world, work and play together in a loving and respectful way. We believe that good behaviour is very important and that children and adults can work alongside each other showing mutual respect and care for the environment in which they live. We are keen to work with parents, encouraging our children to grow spiritually, academically, personally and socially. We strive for excellence in all we do. We believe that education should be an adventure and we want all our children to experience wonder and awe through our outstanding curriculum.
Our aim is to enable our children to become:
Spiritual beings who have positive social morals and values and know the joy of Christ as their friend.

Successful learners who enjoy learning, make progress and achieve their full potential.

Confident individuals who are able to live safe, healthy and fulfilling lives.

Responsible citizens who make a positive contribution to society.
We endeavour to do this by giving our children:
A deeply comprehensive Catholic curriculum, including the teaching of other faiths.

A thorough grounding in the basics of English, Maths and ICT.
A breadth of experience in Science, Arts, Geography, History, Languages and PE.
Creative and innovative learning experiences which value first hand experiences, support personal development and responsibility.

A lifelong love of learning.
Mission Statement.
We are committed to developing a diverse community of excellence driven by the values of love, forgiveness, trust and acceptance.
With Christ at the centre of all leaning, we will inspire every individual to have the confidence to develop their unique potential and be a responsible, effective member of society.
We offer a school that is: safe, creative and exciting. Together we will achieve in God's love.
Executive Headteacher:
Mr John Devlin
Head of School:
Mrs Catherine Mitchell
Address:
Guard House Road
Keighley
West Yorkshire
BD22 6JP
Website:
Telephone:
01535 607149
Fax:
01535 609271
URN:
141059
Joined:
1st July 2014
Number of Pupils:
247
Twitter:
OUR LADY OF VICTORIES NEWS STORIES
Year six at Our Lady of Victories have had an incredible half term-the children were lucky enough to go on a school residential to Paris!
The journey started on Thursday 17th January at 23.30. We bundled the children onto the coach and set off for Dover, where most of the children had their first experience of a ferry.
On the way to Paris, we stopped off at Vimy Ridge, where we admired the memorial, walked through the trenches and recited some poetry out of respect to the fallen.
On Saturday, we were up early to take in the sights of the city. We started at the Sacre-Coeur and Mont Martre before moving on to Notre Dame de Paris, where we found the statue of Saint Dennis. We then snaked our way along the Seine, taking in the views, on our way to The Tour de Eiffel.
The Eiffel Tower was a highlight of the trip, the children couldn't believe how high up they were, that the lifts went up diagonally and of course, how beautiful the views were from the top!
The most important part of our trip was our visit to Notre Dame de Victoires, the church our school is named after. After a long day of walking, we received a warm welcome from Sister Marie Louise and the rest of the congregation.
We were honoured to be asked to read an English version of the Gospel, say The Hail Mary in French and also sing the last hymn of the mass, As I Kneel Before You. At the end of mass, the children were reluctant to leave the church.
Our last day in Paris was a magical one - Disney Land! The children had the most exciting time, watching the parade, waving to characters and experiencing the thrill of the rides, with the light show being the perfect end to an amazing weekend in Paris!
In school the following week, the children used their experience to create some lovely pieces of writing, these are some of the things they had to say:
'Walking in to Notre Dame de Victoires, I couldn't believe my eyes, it was so beautiful. The priest and nuns made us so welcome and even carried out part of the mass in English to help us to understand. Two of the nuns there were celebrating their 25th anniversary of being a nun, so the mass was extra special. I was really amazed when we sang our song and the rest of the people in church joined in. At that moment, I spotted the statue that we have a picture of in our hall, it was amazing!'
'We jumped out of bed excited for our day! The first stop was the Sacre-Coeur (Sacred Heart). From the top of the steps you could see the whole of Paris in just one gaze.

Inside, there was a statue of Saint Peter and you could rub his foot and say a prayer.'

'Before long, we were at Vimy Ridge. We were careful to be respectful to all the soldiers that died during the war. It was a quiet, peaceful place standing under the white marble monument, I was totally overwhelmed. Standing beautifully in the corner was a snow-white statue.

Walking through the trenches sent a shiver down my spine, as I thought about what would have happened during the war and how many people would have been injured here.'

'My last memory of Paris is the beautiful fireworks shooting into the sky like cannons. I already wish I could go again. I was so sad to be leaving but this weekend will be my best memory ever. I really enjoyed it and one day I will definitely visit again!'
The children had a fantastic time in Paris and were impeccably behaved, we are very proud of them and are looking forward to the next adventure!
Mrs Fitchie
#bestdaysoftheirlives #OLVparis2019