Our Lady & St Brendan's Catholic Primary School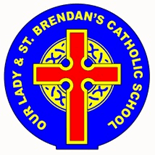 At Our Lady & St Brendan's our three core values form the basis of our mutual working agreement across school. All pupils, staff and other adults use these values in all that they do both within and for the good of our school.
Our School Vision
Help me to journey beyond the familiar and into the unknown
Our School Mission
To promote excellence in life-long learning, embedded in the values and beliefs of the Catholic faith
Our School Aims
To know we are all loved by God and belong to a caring Catholic community.
To enable our children to be happy, independent and resilient learners.
To empower our children to manage their emotions and know how to stay safe.
To support our children to be polite and respectful in a rapidly changing world.
To share a great pride in our school.