St Anthony's Catholic Primary School Shipley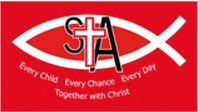 Our vision is to prepare children for life, with Jesus, celebrating their uniqueness.
Guided by God, through their time at St Anthony's, our children will develop a strong identity,
able to use their knowledge and skills purposefully, making a positive difference in the world, both now and in the future.
Our mission is to provide a secure, nurturing and loving school where children experience joy and smile together each day. With Jesus as our inspiration, we enrich children's lives so they grow in confidence and self-belief, becoming the best people they can be.